Activate Learning was excited to welcome Jay Blades MBE, furniture restorer and star of The Repair Shop, to its Rycotewood Furniture Centre at City of Oxford College this week to speak to students.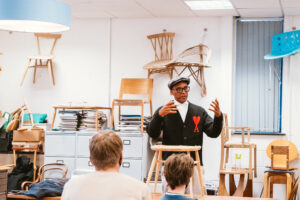 Jay who is a former upholstery student at Rycotewood, gave a talk to current Level 3 and first year foundation degree Furniture Design and Make students about his experience in the industry and advice on what to do once they finished their studies.
He also talked about the work he did with the charity he started, Out of the Dark, which helped young people gain skills in restoring furniture, which he formed after hitting rock bottom and building his career back up.
Rycotewood is the best place to study furniture
Speaking to the students at Rycotewood, Jay said: "Being at Rycotewood, you guys are going to get exposed to lots of different things so I would say, just be a sponge as much as you can.
"You never know where something is going to take you or what it's going to trigger in your brain.
"In the furniture industry, this is the place! If this is the main place and one of the only places to study furniture, why aren't you capitalising on Rycotewood? Why aren't you capitalising on what this can offer?"
The future of furniture is people who think differently
During his exciting talk, he also discussed diversity in the media and furniture industries, building a brand identity and the importance of sustainability and marketing within the furniture industry.
He added: "Individuality comes with its own weaknesses. If you came together as a collective, as Rycotewood, that is a brand in itself. This institution is a brand. So why not use this as your introduction to the world?
"In reality, we probably don't need any more furniture designers. What we need are people who are going to think differently about furniture.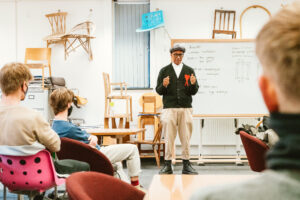 "How are they going to introduce that to the world, because the way we're going at the moment, we're messing up the planet. We need people who are going to think differently and sustainably."
To find out more about studying at Rycotewood, visit the website for more information on the various courses on offer.