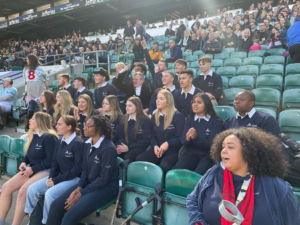 Players from the Activate Rugby Academy attended The Varsity Matches at Twickenham Stadium, the home of England Rugby this weekend. 
On Saturday, the boys' and girls' team were guests of Mark Beard, High Sheriff of Oxfordshire, and newly appointed patron of the Activate Rugby Academy, based at City of Oxford College. 
Mark welcomed the players to their front row seats and cheered on the University of Oxford teams, with the men's team looking to make it a hat-trick of wins against their old rivals Cambridge University.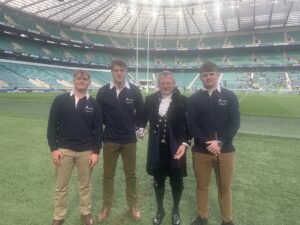 Watching Cambridge and Oxford at The Varsity Matches
First year A Level and Activate Rugby Academy student, Jasmine, said: "Although on crutches I was delighted to get a seat a front row seat and be so close to the action. 
"Twickenham Stadium is awesome, and the day was just brilliant. We all had such a good time and a big thank you to staff for taking us." 
Students enjoyed watching the Oxford and Cambridge men's and women's teams compete for the title.   
Second year Sports BTEC and Prop forward, Cam, added: " We were almost on the pitch, very close to the big hits and tackles.  
"We were all supporting Oxford who won the women's match and just lost the men's. There was no shortage of advice being given and on balance, I thought Oxford were the better side." 
Sadly, the men's side lost out 15-10 to the Light Blues, who also extended their winning head-to-head record in the fixture to 65-62.  
It was a different story though for the women's team who thumped Cambridge 31-12, their first win in the fixture since 2016.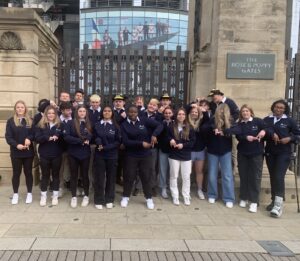 Opportunities to study, play rugby and unwind
Martin Unsworth, Activate Rugby Academy Manager at City of Oxford College, said: "I'd like to say a huge thank you to our Patron, Mark Beard for supporting such an amazing extracurricular opportunity for our students.  
"To watch an international game of rugby now at Twickenham costs over £100, for our students that's just too much. So, to get an opportunity to visit the HQ was a real treat.  
"The 16-18-year-old boys and girls had an absolutely brilliant day. They sang and played music on the way up all very excited and all slept on the way home, a true sign everyone had a fabulous time!"  
Martin added: "For some the next visit to Twickenham Stadium could be as players and not spectators." 
Learn more about the Activate Rugby Academy programmes at City of Oxford College or contact Activate Learning on 0800 612 6008.