City of Oxford College is delighted to announce the launch of their Wasps ACE (Academy Colleges and Education) programme, which will be aimed at talented 16-18-year-old female rugby players who have the ambition and potential to play rugby at the highest level.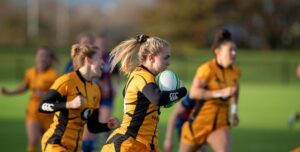 This follows on from the successful launch of their AASE youth academy rugby programme at the college in 2019.
City of Oxford College will support students to pursue their rugby ambitions whilst studying their preferred academic pathway, whether that be A Levels, BTEC or other vocational programmes. Student accommodation will also be available for those who do not live within a commutable distance from the college.
Wasps ACE students will be able to compete with their home club, as well as have access to many outstanding facilities and resources including:
12 hours + of dedicated contact time each week with rugby staff.
Outstanding training facilities, including artificial and grass pitches, as well as state of the art strength and conditioning facilities and medical support.
The opportunity to study an additional sporting qualification, Diploma in Sporting Excellence (DiSE), for select students.
A direct pathway into the Premier 15s through the Wasps Centre of Excellence Programme.
Pat Metcalfe-Jones, Head of Girls Rugby at City of Oxford College, said: "I'm hugely excited by the Girls Rugby Programme that City of Oxford College have put together and it's a privilege to step into the Head Coach role during its pilot season.
"Our partnership with Wasps Ladies will provide an outstanding experience and pathway for the academic and rugby pursuits of young female players. I'm looking forward to engaging with our local rugby clubs and schools within this new Wasps partnership, to ultimately expand the opportunities for young players within the area."
Giselle Mather, Wasps Ladies Director of Rugby, said: "Wasps Ladies are delighted to join up with City of Oxford College to allow young female athletes to enrich their rugby alongside their academic studies.
"To grow and learn as athletes and young people alongside the Wasps family, where their male counterparts already benefit from the fantastic set up at City of Oxford College, is a great opportunity to those who dream of a great education and aim to play their rugby at the top level of the women's game."
Martin Unsworth, Academies Co-ordinator at Oxford City College, added: "I am so pleased we a launching the Wasps Ladies Elite Rugby Player Development Partnership at the college alongside premiership club, Wasps.
"The programme provides a mix of academic studies and high-performance sport. In addition to quality rugby coaching the athletes will gain the skills to move to the next level. It is ideal preparation for university or professional sport balancing studies with elite sport.
The rugby department at City of Oxford College will host a virtual Zoom meeting on Friday 29 January at 7pm to present the programme to prospective players.
To join this meeting, prospective students and their parents may obtain a Zoom link by emailing Pat Metcalfe-Jones at pat.metcalfe.jones@outlook.com.
Find out more about the Wasps Ladies Elite Rugby Player Development Partnership at City of Oxford College on the Activate Learning website.