Students and staff at City of Oxford College planted a commemorative tree on 27 May in honour of Her Majesty The Queen's Platinum Jubilee.
The city-centre campus welcomed special guest Father Christopher Woods, Vicar of St Barnabas Jericho and St Thomas the Martyr, to mark the special occasion and its upcoming celebrations.
Accompanied by Lifestyle students from the city centre campus, Father Christopher Woods gave a speech to reflect on this historic event before students planted the tree.
He shared: "It is important that we take care of our earth, and by doing this we are playing our small part in the future health of our fragile planet."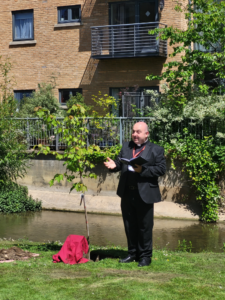 A tree was also planted at the Technology campus is Blackbird Leys earlier this week, where staff and students were joined by Paul Hennigan, Operations Director at the Oxford Bus Company.
Gary Headland, Chief Executive Officer at Activate Learning, said: "It has been wonderful to come together as a college community, with the wider community we are part of, to mark this incredibly special occasion and celebrate Her Majesty The Queen's Platinum Jubilee.
"This is but a small token of our appreciation and respect for everything Her Majesty has done for the people of this country in her time as monarch, but one I hope will be enjoyed by many generations to come."
The Tree
Both the Sorbus Pink Pagoda tree in Blackbird Leys, and the Acer Rubrum tree in the city-centre will soon be embellished with a plaque made by Rycotewood at City of Oxford College in honour of Her Majesty and the celebrations.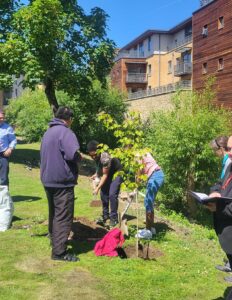 Mat Sentance, Head of Campus – Student Experience at City of Oxford College, said: "It is a rare moment in life where we have an opportunity to celebrate and recognise an achievement such as Her Majesty's Jubilee.
"By planting this tree, we are recognising the unwavering service the Monarchy and Queen Elizabeth II has shown to this country and I hope that this symbol will allow us to reflect what this truly means to us all as we forge our own pathways," he added.
The tree marks the 70th anniversary of Queen Elizabeth II's accession to the throne and the beginning of celebrations across the Activate Learning group.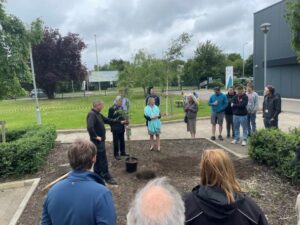 Our Commitment to Sustainability
Activate Learning is committed to championing ongoing sustainability, as illustrated within the group's Strategic Plan, Empowering Learning.
The group continue to work on projects that drive sustainability and meets the needs of their local communities.
This includes introducing EV charging points and cycle programmes on campus, alongside environmental mindfulness throughout their curriculum.
Find out about our courses at City of Oxford College or contact us on 0800 612 6008.