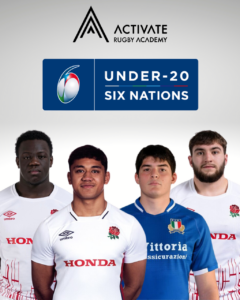 Four alumni Activate Rugby Academy students from City of Oxford College have been called up for the U20 Six Nations.  
Three former students lined up for England U20 as they took on Scotland with the fourth running out for Italy against France. 
England U20s opened their account with a 41-36 win but Italy came up short missing the final kick of the game to lose by two points.
U20 Six Nations call ups for England and Italy 
Activate Learning alumni, Asher Opoku, Greg Fisilau and Archie McCarthur will be hoping to run out for England U20s against peer, Pietro Turisi for Italy this Friday.  
England take on Italy U20s at Kingsholm Stadium in what looks to be the hotly contested game of this year's 6 Nations as Italy beat England 6-0 in 2021. 
All four players had been part of the Activate Rugby Academy within the past three seasons and have gone onto sign professional contracts within the Gallagher Premiership and the Top 14 in France. 
Professional rugby alongside academic study
Asher Opoku, Greg Fisilau and Pietro Turrisi, studied on the BTEC National Extended Diploma in Sports Coaching while Archie McCarthur is currently studying the BTEC National Extended Diploma in Sport and Exercise Science. 
The Activate Rugby Academy at City of Oxford College allows highly talented 16–18-year-olds the opportunity to combine academic study (BTEC National Diploma or A Levels) whilst being part of an elite rugby development programme. 
Learn more about the Activate Rugby programmes at City of Oxford College or contact Activate Learning on 0800 612 6008.