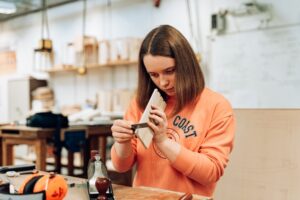 City of Oxford College are delighted to announce they have been selected as one of four clubs to host the new Craft&Making Saturday Club in its pilot year.  
National Saturday Club and Queen Elizabeth Scholarship Trust (QEST) will launch the free clubs in partnership with support from Howdens
Four National Saturday Clubs have been chosen to host the Craft&Making Saturday Club. These include City of Oxford College, City & Guilds of London Art School, Birmingham City University and MAKE Southwest. The network aims to increase to ten clubs by 2025.   
The new programme aims to introduce young people to the world of craft and making. It will create opportunities for them to develop their creativity and practical skills.  
Free club open to 13–16-year-olds of all abilities
The City of Oxford College club will be held at the renowned Rycotewood Furniture Centre, a centre of excellence in furniture design and make located within the City Centre Campus.   
The club is free and open to 13–16-year-olds of all abilities. Classes will run weekly from November 2022 and be led by professional tutors at City of Oxford College.  
Danielle Sterrenburg, Learning for Leisure Team Leader for Creative Industries at Activate Learning, said: "Activate Learning is a proud partner of the National Saturday Club and delighted with this exciting opportunity for our National Saturday Club Members to work closely with an Industry Body organisation, highlighting the career pathways that are out there for them." 
Club members will work with a variety of materials and will gain an understanding of the importance of traditional craft practice alongside modern skills.   
As part of the programme, members can also take part in industry professional led masterclasses, museum and gallery visits, the celebrated end-of-year show at Somerset House and graduation ceremonies. 
These clubs have a particular focus on engaging young people from disadvantaged background and underrepresented communities. They aim to make creative arts more accessible.  
To find out more, please visit the Craft&Making Saturday Club at City of Oxford College webpage or contact danielle.sterrenburg@activatelearning.ac.uk. 
Learn more about the Craft&Making Saturday Club