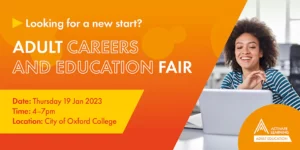 City of Oxford College will welcome local jobseekers to their Adult Education and Careers Fair in January 2023. 
The fair will be hosted at the City of Oxford College City Centre Campus on Thursday 19 January in their Recharge Café from 4–7pm.  
Visitors can learn more about:  
Accredited courses

 

Adult Apprenticeships  

 

Help getting back into work

 

Higher Education

 

Learning for Leisure

 

Working at City of Oxford College

 
The event aims to give the local community access to professional support and information when job hunting, retraining or returning to education.  
The Adult Education team will be available to guide visitors through programmes at City of Oxford College. These include Access to Higher Education, Higher Education, professional qualifications and Apprenticeship programmes.   
These accredited courses can support visitors returning to education, looking to upskill or hoping to increase their earning potential. For those interested in Higher Education, Activate Learning achieved university status in 2021 and have a selection full and part-time degree courses.  
For those looking to return to work, the Activate Learning Employability team will offer free training with an employability coach. They can support job search and interview skills, as well as essential job skills to build confidence.  
Activate Learning Human Resources team will detail what it's like to work at college alongside providing further information on current vacancies at Activate Learning from entry through to director level.  
Visitors can also learn more about adult leisure courses in Oxfordshire. Learning for leisure programmes at Activate Learning offer a fun and relaxed environment, supporting mental wellbeing within the community. 
Courses include pottery and ceramics, art and design, bike maintenance, sewing and textiles, jewellery and silversmithing, print making and more. 
Visitors can experience talks and tours relevant to them throughout the Adult Education and Careers Fair event. 
Register for tickets for the City of Oxford College Adult Education and Careers Fair on Thursday 19 January 2023, 4–7pm. 
Location: City of Oxford College, Oxford City Centre Campus, Oxpens Road, OX1 1SA