The first of two benches have been placed at City of Oxford College City Centre Campus to launch an ongoing sustainability and college collaboration project.   
Students at Rycotewood Furniture Oxford have worked alongside Merrist Wood College to connect the two campuses. 
The wood and seed to table sustainability project has allowed students to work on practical design and professional make components within their programme.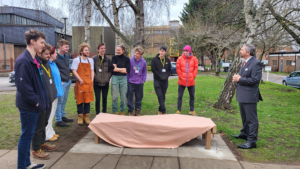 The benches were constructed by Foundation Degree in Furniture Design & Make students at Rycotewood. First year students designed the benches, and second-year students produced them. 
Josh Hudson, Furniture Lead at Rycotewood, said: "It is great to have such a fantastic teaching resource from the Merrist Wood College site. 
"Sustainability is key to the furniture industries future and being able to work on exciting projects with homegrown timber is a great opportunity for Rycotewood students at City of Oxford College alongside the wider Activate Learning college group."  
"The whole team at Rycotewood are looking forward to seeing this partnership develop."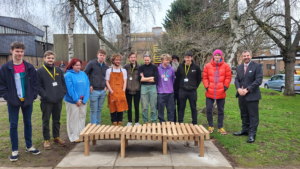 The pair of benches are repurposed from an English Brown Oak from Merrist Wood College with the tree was grown, felled and dried there. 
One bench has been placed at City of Oxford College and another at Merrist Wood College. 
Gary Headland DL, Chief Executive at Activate Learning, said: "Rycotewood Furniture is a truly remarkable asset to both Activate Learning and the community and we are incredibly fortunate to have such talented students who are capable of designing and building such wonderful furniture. 
 "This project has been a great way to develop collaboration between the two colleges and the learners and I hope that this continues into the future with equally brilliant outcomes."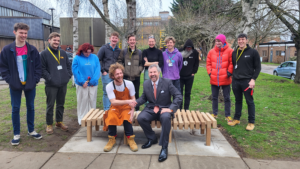 Tom Wilkinson-Dix, Foundation Degree in Furniture Design & Make student at City of Oxford College, said: "The bench was a collaborative project between a few of us. We all came in on Fridays and worked on it, kind of systematically as a group.  
"It was a lot of fun. We ended up having a bit of a rhythm going where everyone was doing different operations together in sequence. 
"It was also great to collaborate with Merrist Wood College and bridge our two colleges together with this exciting project." 
The partnership between Rycotewood and Activate Learning will continue to flourish, deepening collaboration and connection alongside showcasing exciting ways to showcase home grown timber.  
Each year, Rycotewood will repurpose timber for further installations to connect college sites within the Activate Learning group.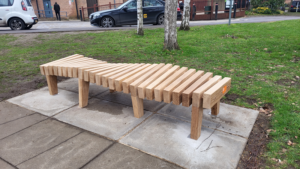 Ben Scott, Foundation Degree in Furniture Design & Make student at City of Oxford College, said: "It was a way of working that we hadn't experienced before because where we are at the minute, we are working on our own individual projects.  
"But in reality, when you're out in the industry you are working together on projects to achieve a goal.  
"So, it was a really good experience to be able to work like we would when we're actually in the industry." 
The site for next year's benches is planned with Rycotewood students due to visit Merrist Wood College later this month to being this year's project.    
Learn more about furniture programmes at City of Oxford College or contact Activate Learning on 0800 612 6008.