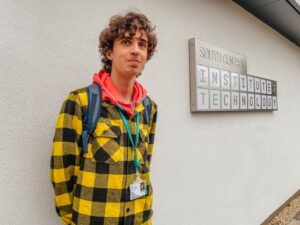 Asa Masterton studies Digital Production, Design and Development T Level at City of Oxford College, Technology Campus in Blackbird Leys.  
This course focuses on the digital industry and aims to give students essential knowledge, understanding and skills relevant to any digital occupation. When asked about what attracted him to T Levels, Asa said:  
"I was attracted to T Levels as they give you lots of experience and I knew that I didn't want to do A Levels.  
"I was lucky that T Levels came about when I was looking as this is what drew me to the course." 
Groupwork and project-based learning
Asa has had a really good experience during his first year of his programme. He really likes his teachers alongside how the course is structured.   
"I think the teachers are great, there's a mix of group projects and project-based learning alongside some tests. The teaching style really suits me and the course.  
"The teachers are really helpful. If you are ever struggling, they set you different tasks to keep you up at the same level. 
"I've really enjoyed the whole experience. I like that the classes are much smaller than they were at school. If you do need help, you can just talk to the person next to you as well as the teachers." 
Work experience in Digital Production, Design and Development
As part of his T Level qualification, Asa has undertaken work experience which accounts for 80% of his study programme, the other 20% is spent in class.  
"I'm currently halfway through my placement at Oxfordshire City Council. I'm working in customer support at the moment which is useful as I can take all my skills and apply them depending on what people need." 
Asa plans to go to university once he completes his Digital Production, Design and Development T Level. He hopes to continue his studies within the industry. 
"I am hoping to go to university in the future and study business information technology which matches up with what I am doing currently. I've been to a few Open Days already.  
When asked would he recommend T Levels, Asa added:
"I think T Levels are good for anyone who likes to be more interactive and hands-on and enjoys practice to test their knowledge.
"They're great for people who enjoy project-based learning and group work. It's very hands-on learning and not just about reading lots of books.
"We continue to learn about a wide variety of topics. These have given us the skills and lots of opportunities during work placement. I'm having a really great experience at college."